Motor Vehicle Accident
You have already experienced the tragedy of a motor vehicle accident, do not be further harmed by missing out on the compensation that you deserve. While you focus on healing your injuries, let the experienced lawyers at Bezaire & Associates handle your claim and fight for your rights.
Ontario residents who have been hurt in a motor vehicle accident, regardless of fault, are entitled to damages and benefits including: loss of income, loss of ability to earn money, medical or rehabilitation costs and many others, depending on the specifics of the case. Eligibility to claim this recovery in Ontario is dependent on the plaintiff adhering to complex rules and the completion of various processes.
Our Free, No Obligation Consultation allows the legal team at Bezaire & Associates to review your case and determine the compensation to which you are entitled.  We guarantee that you pay us nothing unless or until you get paid!
While your insurance company might deny your claim, a personal injury lawyer will ensure that you have recourse to be compensated for the losses you have incurred.
An experienced legal team offers: in-depth knowledge of Ontario's ever-changing laws governing car accidents; experience dealing with insurance companies; the ability to determine relevant liability issues; compassion for the needs of clients and their families.
In Ontario, there is a no-fault insurance system that partially protects operators of automobiles and motorcycles by allowing compensation to be rewarded through the respective driver's insurance company; however, this does not mean that you cannot seek compensation from the party who was liable for the collision.
A MOTOR VEHICLE ACCIDENT CAN ENTITLE AN ACCIDENT VICTIM TO, AMONG OTHER THINGS:
Pain and suffering

Loss of income

Housekeeping or home maintenance assistance

Loss of injured persons guidance, care and companionship
The severity of your injuries may allow you to pursue compensation for current and future medical and caregiver expenses so as to ensure that your quality of life is not compromised or diminished in the future as a result of your accident. Claims that provide relief to the victim is one of the benefits of tort law: however these can be difficult to pursue without the support of an experienced injury lawyer as the plaintiff must prove that:
The defendant had a legal duty to act in a particular way.

The defendant breached this duty.

You suffered an injury as a result of this breach.
A competent lawyer knows how to navigate these claims in a lawsuit to ensure that you get the full compensation you deserve. If you or a loved one has been injured in an automobile accident, it is important to act before the relevant limitation period has expired and you are out of the allotted time to pursue legal action.
Wondering if you have a case? Contact the personal injury lawyers at Bezaire & Associates for your free, no obligation consultation. Our guarantee at Bezaire & Associates is that you pay us nothing, unless, and until, you get paid!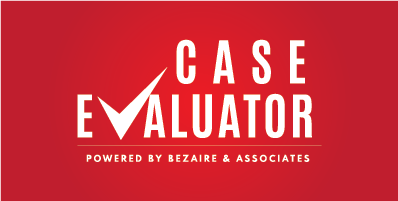 Contact our team today, we are ready to help! There is NEVER a cost to speak or meet with us. Actually, we charge you nothing throughout the entire process unless or until we obtain compensation for you! That's our Commitment and Guarantee! Call us BEFORE you talk to an Insurance Adjuster! You need to know what you are entitled to First!