Fire Truck Accidents
Fire trucks, although often perceived as beacons of safety, can sometimes be the cause of injury to pedestrians, motorists and cyclists. While it is rare, fire truck accidents are serious, often occurring as a result of blind spots, inexperience, lack of training, fatigue, medication, excessive speed, failing to obey traffic laws or misunderstanding the laws that govern emergency vehicles.
Our Free, No Obligation Consultation will give us the opportunity to review your case and determine your claim entitlement. Our guarantee:  you pay us nothing unless and until you get paid!
FOLLOWING A COLLISION WITH A FIRE TRUCK
Collisions with vehicles of this size will likely result in critical injury that may lead to life-long discomfort, pain and in some cases death. For the victim, this can mean, lost wages, change in life style, physiotherapy, specialist treatments, fear, as well as many other residual repercussions to their family and their well-being. A personal injury lawyer will be beneficial in recovering losses you have incurred as a result of the negligent driver.
A FIRE TRUCK ACCIDENT MAY LEAD TO CLAIMS SUCH AS:
PERSONAL INJURIES

VEHICLE DAMAGE

LOSS OF EARNINGS

MEDICAL REHABILITATION

TRAVEL COSTS
WHAT YOU CAN EXPECT
If you have been involved in a fire truck accident, treat your injuries immediately. If you can, take photos, document the weather, road conditions and the accident scene.  It is important to retain representation quickly in cases like these, as it is imperative to determine causation and fault in order to receive compensation. Contact the Personal Injury Lawyers at Bezaire & Associates for your free consultation.
Questioning whether you have a claim?
Contact Bezaire & Associates for your free, no obligation consultation.
I'm not one to post reviews, but Steven, Joyce and all the staff at Bezaire Law are excellent — thorough, professional, attentive, and straightforward. Steven listens and really hears the details and explains the incredibly complicated world of motor vehicle accidents with great clarity. I highly recommend this firm.
I took a very unusual legal circumstance to Steven. The first thing he did was listen to me and after my explanation he said he wanted a little time to go over the details. He got back to me and had decided that we had a case. We were successful in our case making both of us very happy. Yes, I would recommend and his team.
Just want to start off by saying, he is the man. I was in a serious car accident, and he showed up at my bedroom like a super hero. He was straight up with his services and gave me great expectations. When all was said and done, he got me what I deserved. Call him, he is the one to get the job done! I am thankful, and you will be too!
Everyone in the firm have been very understanding, professional and knowledgeable. They have been our lawyers for a number of years now and I highly recommend them
Steve and his staff were always prompt to return my calls and made sure I understood every aspect of my case. I will always call him if I have a legal problem and I will encourage my family and friends to do the same.
Mr. Bezaire was very professional and determined to assist me – even though many of the facts of my case were not favourable. He was dogged and stubborn until the insurance company paid. I can't recommend him enough!
"From the beginning to the end Steven Bezaire was always there with a consistent commitment and focus on my case. He took time to explain particulars of the case, would always return phone calls and I never felt that I was in the dark about anything. He showed a great deal of competency, legal knowledge and skill that ultimately resulted in the desired outcome. I was so satisfied with Mr. Bezaire's services that I would recommend him to my family, friends or anyone else who needed a good lawyer."
Mirjana Janeska, Windsor, Ontario
We had an issue with a client of ours and we were referred to Steven Bezaire by another lawyer. Steven gave us real answers to our questions, told us up front what we could expect. This helped us make our decision to continue with the case. He was always willing to help in any way he could. He never pressured us to do anything we didn't want to do, he just steered us in the right direction with good honest advice. If you need a lawyer I strongly recommend the office of Steven D. Bezaire."
Ken Kramer, Windsor, Ontario
Kitchen Korner
"I have known and worked with a number of lawyers in my time, including my own father who became a Judge in New York after a 40+year career practicing law. I was referred to Steven by a friend and he acted for me in a number of legal matters. I found Steven to be fearless and bull-headed in his dealings with the opposition and he stopped a tyrant against us in his tracks…
Sarah Shapiro, Windsor, Ontario – Part 1
LCSW
…I continually advised my father of his plans and work during the litigation and without exception my father advised of his approval with those steps and his regard for what Steven was accomplishing for us. My father, whose decisions have been published in the Harvard Law Review, advised me that Steven is an excellent legal writer which is extremely important for winning cases. Finally, Steven is very easy to work with and a great support during tough legal battles. I would recommend him to anyone without reservation."
Sarah Shapiro, Windsor, Ontario – Part 2
"Steven Bezaire has acted for me in various lawsuits and in providing me with general advice for over five years. Also, I have referred injured patients to him and have always heard of their happiness with his handling of their injury cases. I expect to use Steven Bezaire for all of my legal needs in the future and I will continue to recommend him to injured patients. Steven is a tough and brilliant lawyer who is dedicated to getting the best outcome for all of his clients. I highly recommend him."
Dr. Thomas Barnard, Windsor, Ontario
"Steve has assisted many of my patients, myself and my family members from time to time. I have always found him approachable and his advice is well thought out and explained. He is never intimidated to insist upon his clients' rights and I would recommend him wholeheartedly."
Dr. Roger Berton, Tecumseh, Ontario
A Healthy Way
"Mr. Bezaire represented me in a very difficult personal injury case. Although my injuries were serious enough, the facts establishing liability were not ideal, but Mr. Bezaire analyzed every angle of those facts and made a persuasive case to the insurance company prompting them to settle. He knows how to leverage insurance companies by exposing every weakness in their case."
Peter Cadarian, Windsor, Ontario
"Mr. Bezaire has looked after all of my business and personal needs for close to a decade now. He is knowledgeable and easy to talk to. He has always been there to help me and I would highly recommend him to anyone."
Jack Jobin, Windsor, Ontario
Limos By Mr. J's
"Steven is a first rate lawyer who can't be bullied by anyone. He says what he's going to do, and then does what he said. He was stubborn with the insurance company and obtained an excellent settlement for me."
Kelly Dresser, Kingsville, Ontario
"Steven Bezaire has handled all my legal needs honestly and professionally for the last 10 years. When my family and friends need legal advice, I recommend Steven because he explains the law in terms that are easily understood, and makes you feel at ease. He truly is an "every person's" lawyer."
Lorne Michaelis, Kingsville, Ontario
"Mr Bezaire has represented both of us in separate personal injury actions. His professionalism and hard work ensured that we received fair compensation in these matters. If we ever required legal assistance in any matter, we would not hesitate to retain him. We strongly encourage our friends and family to do the same."
Jane and Phil Daikens, Windsor, Ontario
"Steve is an excellent lawyer and negotiator. He tells it likes it is and gets incredible results. You will be in good hands with Steve on your team. I will always refer personal injury claimants from the Essex County Area to Steve. Steve is very professional and always keeps you informed about how your claim is going."
Mike Cousineau, Windsor, Ontario
"Mr. Bezaire has acted for us in the past and proved himself to be very confident and competent. He really understood our concerns and made sure we understood each step in the process. We were extremely pleased with his work for us and the recovery he obtained for us. We would definitely retain Mr. Bezaire's services again and would highly recommend him to friends and family members."
Claire and Steve Abbott, Windsor, Ontario
"Steve assisted us with the purchase of our first home. He was honest, thorough and informative throughout. Because of such a wonderful first experience with him, we returned to have our wills prepared, as well as retained him to handle other minor litigation matters. Our confidence in Steve and his abilities to achieve a more than desired result will have us retaining him for all future matters that may arise."
Jason and Gen Luciw, Belle River, Ontario
Mr. Bezaire listened to my problem when nobody else would. He took the time to explain my options and answered all of my questions. Then he put into action the strategy he discussed with me and kept at it until my matter was resolved – just like he said would happen. I would recommend him to anyone."
Lewis Andrews, St. Joachim, Ontario
"Steven Bezaire has represented us in the most professional manner and has protected our best interests and needs. In our eyes, this has made him a very good lawyer to have on our side, whatever need arises. Steve was there to handle our issues at hand whether big or small. He is reliable and very dedicated in making sure the smallest of details are covered and the end result is getting the best outcome we could expect. Choosing Steve as a lawyer is not hard to decide – it was the right choice overall."
Leon Marc Janisse, Windsor, Ontario
Windsor Chapel Funeral Home
"I have personally known Steven Bezaire for the past 28 years as both his Teacher at Assumption High School in the early 80's and presently as one of my close personal friends and someone who has invited him in to speak to my Grade 12 Law Classes here at F. J. Brennan High School over the past 10 years. I have found Steven Bezaire to be compassionate, humble as well as professional in dealing not only with my students, but also with the clients that have been referred to him by both myself and students. He is an excellent litigator and will always go the extra mile for his clients as well as for his lectures in my Law Class".
Norm Innocente, Windsor, Ontario
F.J. Brennan High School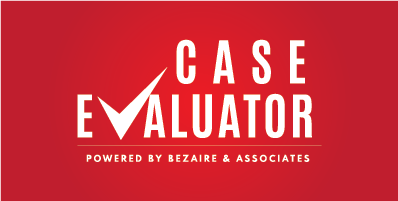 Contact our team today, we are ready to help! There is NEVER a cost to speak or meet with us. Actually, we charge you nothing throughout the entire process unless or until we obtain compensation for you! That's our Commitment and Guarantee! Call us BEFORE you talk to an Insurance Adjuster! You need to know what you are entitled to First!